Dr Andrea Cupidore award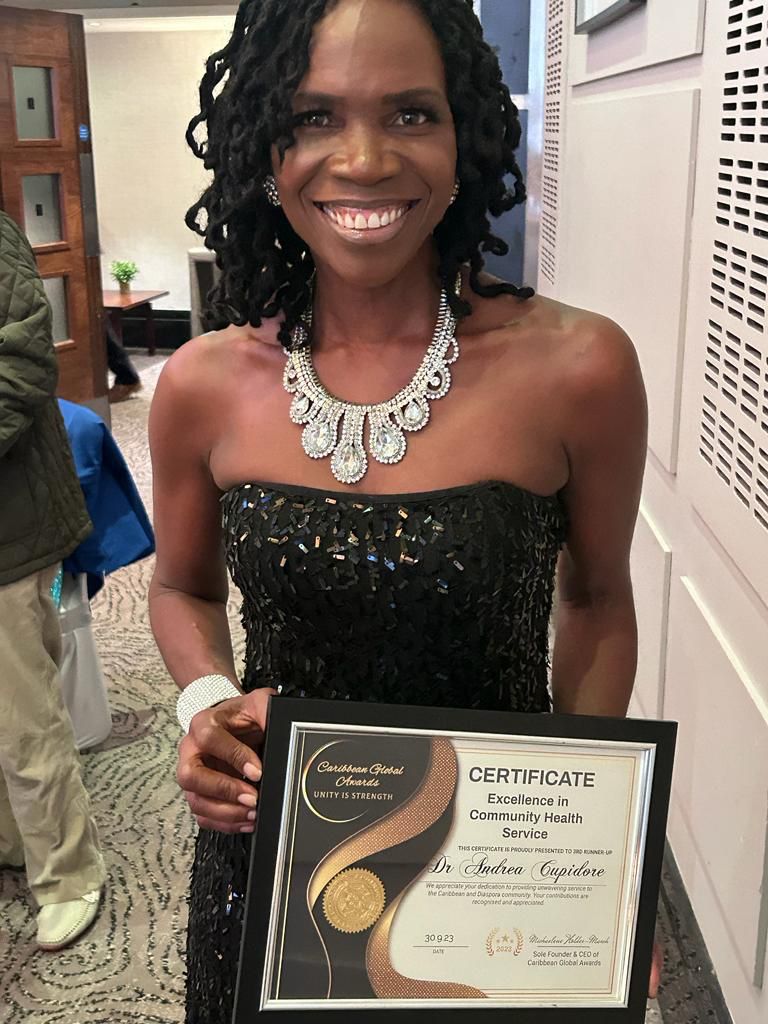 We are all proud of Dr Andrea Cupidore for the award, for championing the promotion of oral health in the community on behalf of ACDA UK. Thank you Andrea for keeping the ACDA "light on" in the community
Identifying a patient who needs advanced periodontal care and where to start
Mental Health Wellness in Dentistry Webinar
Fund Raising For Mental Health Wellness in Dentistry
Dr Kayode Onanuga and Dr Timi Adesanya ran in the Beckenham Half Marathon 2021 on Sunday 26th September. A 13.1-mile route around the lovely town of Beckenham including three park sections. The aim was to raise funds for mental health and wellness in dentistry to help train mental health leads in the dental practice.
www.justgiving.com/crowdfunding/acda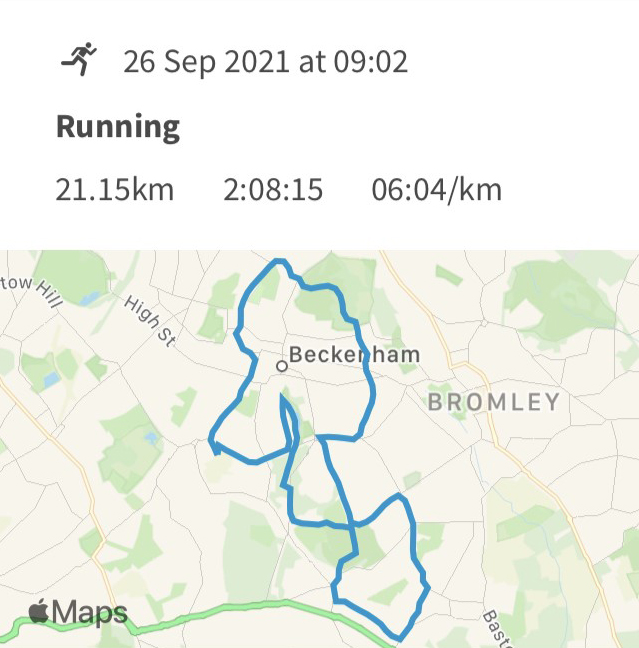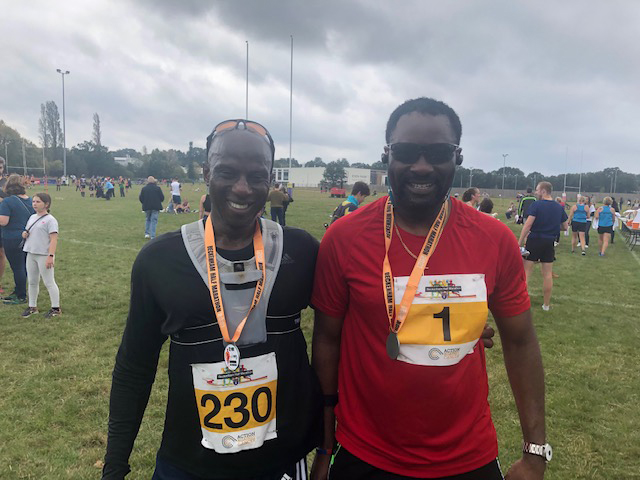 Also, we received an amazing poem from one of our members Dr. Adeloye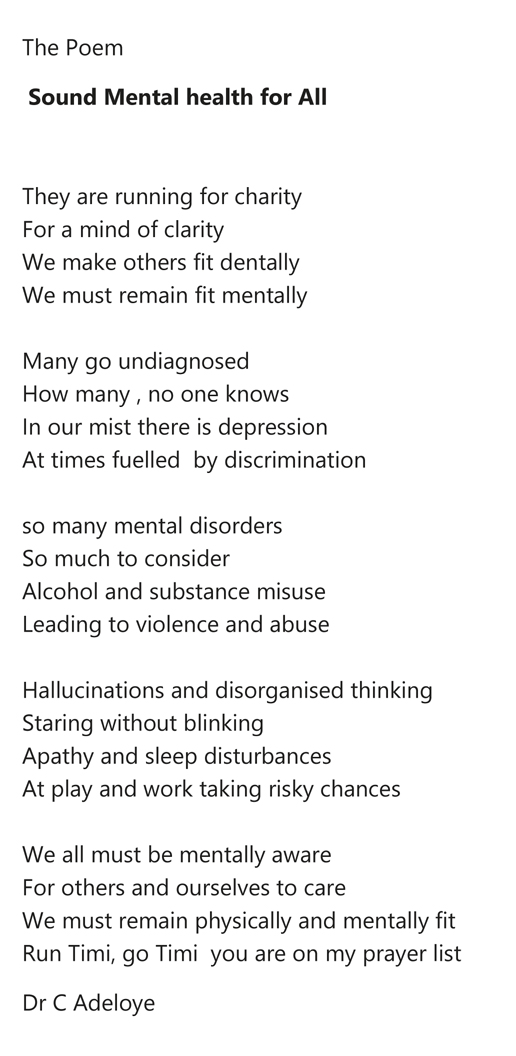 Meet the expert as seen in the Guardian newspaper - ACDA chairman Dr Timi Adesanya
British Dental Journal December 11th 2020
INSPIRING THE NEXT GENERATION: 'WHAT DOES A DENTIST ACTUALLY DO?'
Click here for images from this event
Members of the ACDA-UK were welcomed to Hyland House School in Tottenham to give an oral health presentation in September and October 2018.
Dr Andrea Cupidore, Dr Deborah Reynolds and Dr Cheryl Stewart engaged the KS1 (5-7-year olds) and KS2 (8-11-year olds) in some aspects of a dentist's daily life. It's not all about the UDAs! (Unit of Dental Activity for the uninitiated)
The children learnt the importance of teeth; the teeth families and their role in breaking down food; healthy food choices; the difference between some animals and the human dentition and saw images on why and how dentists restore teeth.
The piece d'résistance was demonstrating how effective, or not, their tooth cleaning had been that morning. This involved using a specialised dye to highlight areas of plaque, pink being less than 24 hours old and blue greater than 24 hours. The children had fun comparing their results with their classmates.
Correct brushing technique followed, and the children were given toothbrushes and toothpaste, donated by ACDA-UK members, and instructed on how to remove plaque successfully.
Our visit in October coincided with Hyland House School's celebration of Black History Month. The ACDA-UK was honoured to support the school in providing positive role models for the children.
The Association would like to thank Mrs St Luce-McKenzie for her kind invitation and all the teaching staff for their warm welcome and feedback.
Essential Advice and Tips for Dental Students and Young Dentists
SERVING OUR COMMUNITY: ACDA-UK ACTED AS DENTAL ADVISORS AT HYLAND HOUSE SCHOOL SUMMER FETE
Held on Sunday 1st of July 2018.
Click here for images from this event
On one of London's many gloriously sunny days this year, the African and Caribbean Dental Association was invited to participate in Hyland House School's Summer Fete.
This independent primary school based in Tottenham N17, hosted a 'Back to the 80's' themed event with many stalls, including Caribbean cuisine, arts and crafts, face painting, a bouncy castle and a health stand, which the association was part of.
Dr Andrea Cupidore , Dr Cheryl Stewart , Dr Deborah Reynolds , Dr Timi Adesanya and Sitha Designs Dental lab owner Valentine Dzingai fielded questions from the young and old regarding differing aspects of dentistry. We provided free toothpastes and toothbrushes as well as leaflets on children's teeth and NHS Dental Services.
From the fete attendees we found that;
Many of the older generation did not visit the dentist on a regular basis and was usually prompted by a dental issue.
The older generation had a guarded opinion of dentists and their role in their general health, citing dissatisfaction and distrust with regards to previous treatments and financial costs as precipitating factors.
Eligibility for free dental treatment was not readily known
Many parents used the service for their children (under 16) who attended regularly (6 monthly), however they themselves did not attend as often (yearly or greater intervals)
Few had never seen an African or Caribbean Dental Surgeon and were very supportive of the aims of the Association.
Our services for primary schools and supporting students aspiring to join the dental profession was well received and applauded.
This was an informative snapshot of opinions regarding dentistry in the African community in this area, and reveals our mission to improve the oral health awareness in minority groups is warranted.
Delegates visit to Number 10
Click here for images from this event
In late 2017, the organisation was contacted by Nero Ughwujabo, the then Prime Minister Theresa May's Special Advisor on Social Justice, Young People and Opportunities. He had heard about the ACDA's outstanding work with young people from underprivileged backgrounds.
Delegates of the Association including members of the executive committee attended a meeting at No.10 Downing Street in January 2018 to tackle issues such as discrimination and lack of opportunities for young people.
As a result of this meeting, the charity also adopted a manifesto to prioritise its activities as follows:
to provide knowledge of what good oral health entails, and how to achieve it
to develop partnerships with Primary and Secondary schools to showcase dentistry as a career
to highlight the role of the dental surgeon in attaining positive health outcomes
to conduct community oral health promotions in collaboration with schools and other community-based organisations.
Great news! Our press release is in the Voice online now..
Check out our press release in the Voice online now at:
http://voice-online.co.uk/article/bringing-oral-health-awareness-minority-groups-uk
Please share it with as many people in your contact.
Also tickets are going for the picnic if you have indicated you wish to attend please pay as tickets are offered on first come first serve basis
Hope to see you all at the picnic
"The Journey Continues..."
ACDA in the News
We were delighted to be featured in July's issue of Dentistry(2014) following an interview with Editor Julian English. The in-depth interview gave us the opportunity to explain in detail the aims and objectives of the Association and bring these to the attention of the profession.
With the launch of our new website we are now ready and prepared for a full-on push for new members. If you're not yet a member and want to know what benefits
One Child One Toothbrush
Held at the end of June 2014, our most recent community event saw a group of ACDA Members spend the day spreading the oral care message in a Croydon shopping centre. With face-painting and music throughout the day we drew quite a crowd and distributed lots of toothbrushes and toothpaste (kindly supplied by Henry Schein Dental). This was a great opportunity to answer questions from the public and explain the importance of child oral heath.